Milling machine Optimum MB4
As I sold my cnc milling machine I was in the market for a new milling machine and I wanted a machine with a bigger work envelope and more torque on the spindle than my previous cnc machine.

The decision felt on a Optimum MB4 which is a variant of the ubiquitous RF45/ZX7045/RonFu45 milling machines. They are recognizable for their big geared spindle head, the fairly large travel of the table and the dovetail column.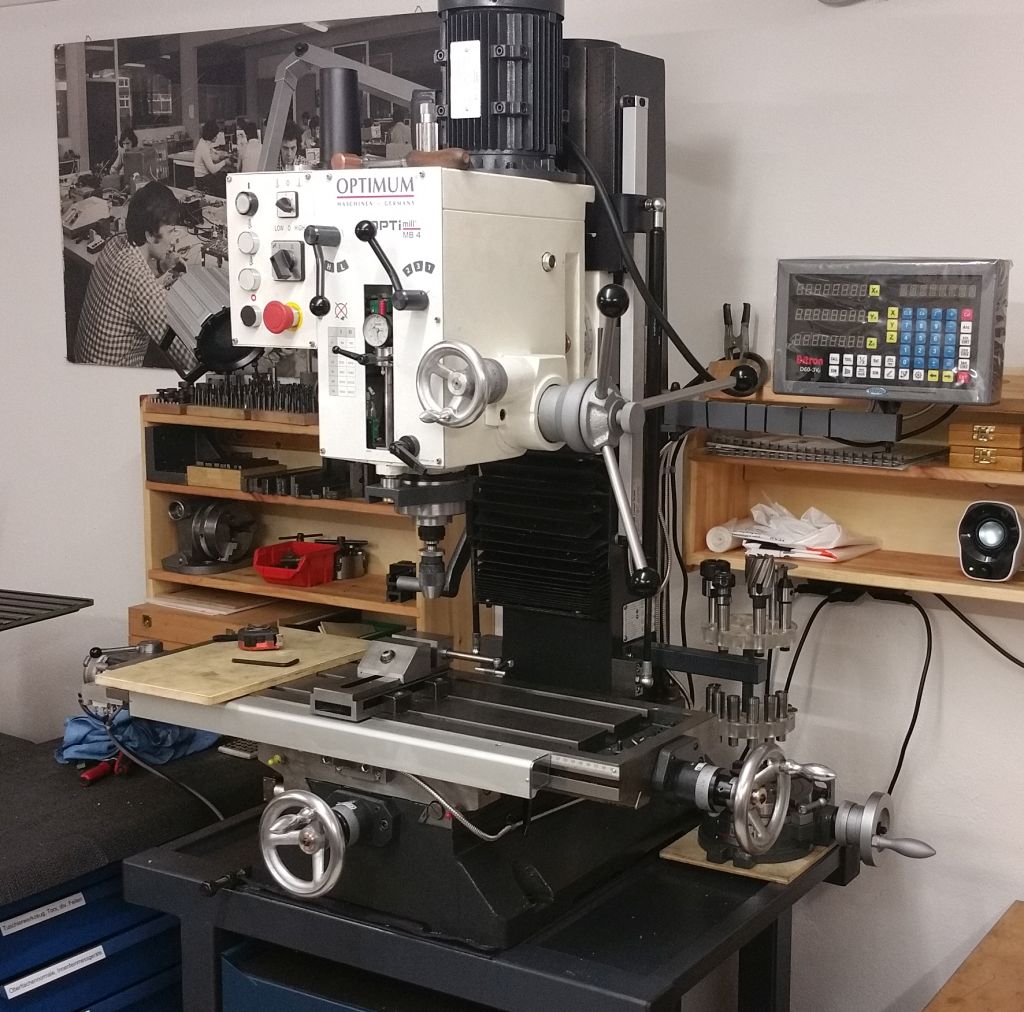 An important feature required by the machine was that it could be broken down in pieces light enough to be moved and liftet by two persons with the help of a handtruck because my shop is in the basement and the stairs down into the shop take a 180degree turn half ways. Because of that heavier toolroom mills like a Deckel Fp1 or a Maho300 where out of the game right away.
When I got the machine I took it apart in the carport and moved it down into the basement. Most parts where light enough to be handled by myself. The only part that required two persons was the head which is realy hard to move alone (Absolutely not adviced!), even with two persons ist a bit sketchy to lift it onto the machine when reassembling it - A engine hoist or something like that would be perfect.
So far, I like the machine. It is out of the box very usable and the accuracy is pretty good. The quill with its generous travel of 120mm is very close fitting and has effectively no play even when extended out very far.
The gears run suprisingly smooth and dont make a lot of noise and the machine has plenty of torque. Especially when running endmills up to 10mm it can take pretty heavy cuts and remove quite some metal in a short period of time.
I do allmost all my milling dry or only with a little cutting oil with carbide cutters - The machine behaves very well with those.
I have a video where I talk about the machine and why I decided to buy it, also I go a bit into the details of it:
Optimum MB4 milling machine
More detailed articles on different aspects and modifications on the machine:

Drawbar for MT2 tooling